Christmas in Thailand was hard, but so good.
I skyped into Christmas Eve at my grandmother Momma's house and it was hard seeing my whole family together, celebrating, without me.
I missed everyone, I missed being in a cozy house, I missed the cold, I missed carpeted floors, I missed the beep Momma's door makes when someone opens it, I missed taking naps with my siblings on a real couch, I missed sitting on my dads lap, I missed so much.
But I had made a commitment to be here, doing what I'm supposed to be doing- what I want to be doing, and following the Lord wherever he happens to lead me.
I will only be in Thailand for Christmas once in my entire life, and there are so many things to celebrate.
I am on an incredible adventure, I am living in incredible community with people who love and support me, I have the opportunity to love and encourage people of different cultures that speak another language, and I am experiencing the love of god like I never have before in my life.
So celebrate we did.
On Christmas Eve we made a cake and sang happy birthday to Jesus, one of my family traditions, and watched Elf. Then I woke everyone up super early Christmas morning and we layed around and listened to Christmas music. Then we made pancakes with peppermint kisses in them and opened stockings, and that night we went caroling with all the church members and sang the only song we all knew in English and Thai, Joy to the World.
It wasn't the Christmas that I would have had at home, but it was sweet.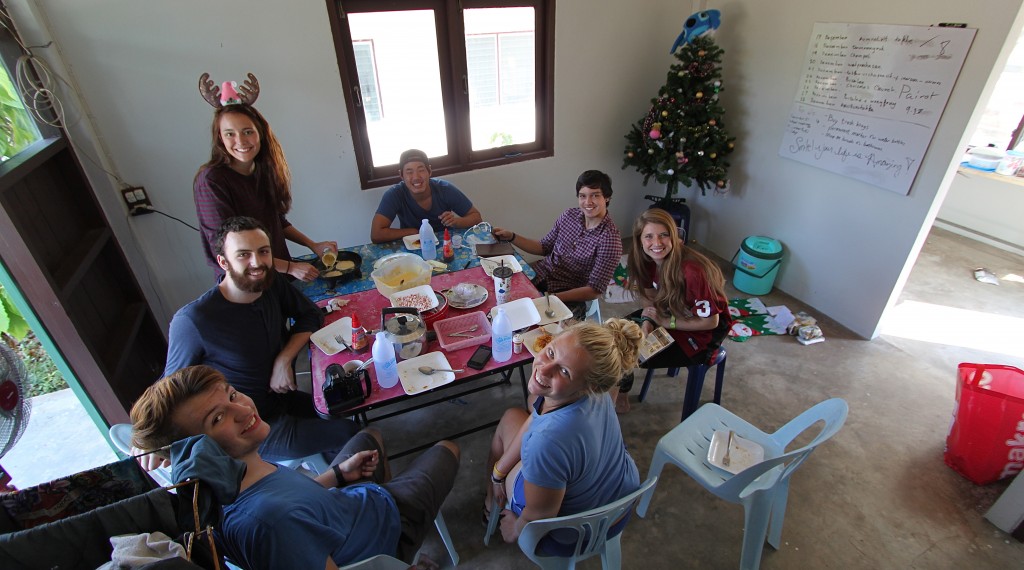 Following Jesus is an adventure. It is not boring. It takes you places that you'd never thought you'd be, its full of good gifts and surprises along the way, it can be hard, you usually don't know much about what's ahead, but it is worth giving up everything for.
To have a Christmas in Thailand I had to give up a Christmas at home with my family, and I had to trust that God was going to take care of me and that his plans were better than mine.
So I trusted the Lord, and he was faithful to me. He always is.